TRUSTEE Project(H2021-101070214)
Trust and Privacy Preserving Computing Platform for Cross Border Federation of Data
As we live in a data-driven era, the emergence of interdisciplinary, geographically dispersed, data repositories, is inevitable. The fact that these repositories do not necessarily abide with existing interdisciplinary data representation standards, nor do they necessarily belong to any data federation initiative, renders them unusable, since researchers cannot easily access this data. Moreover, most of thetimes, integrity, privacy, and security in such interactions is either very difficult, or impossible to maintain.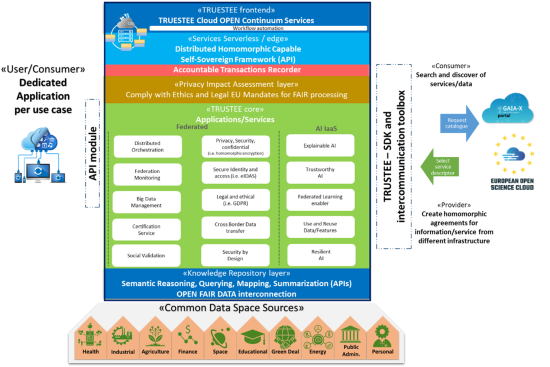 Towards this end, TRUSTEE aims to bring a green, secure, trustworthy, and privacy-aware framework that will aggregate various interdisciplinary data repositories, such as Healthcare, Education, Energy, Space, Automotive, Cross-border etc. and also consider other European data federation spaces and trans-national initiatives, such as Gaia-X and EOSC. TRUSTEE will offer a secure-by-design framework, wherein stored data is homomorphically encrypted, thus offering researchers:
Ability to search and use data in the encrypted domain
A unified and meaningful FAIR representation of data, in an open and fair manner
Complex and context-aware queries through advanced ontologies
Data processing and analysis through transparent trustworthy ML workflows,over an intuitive AI playground, which will promote AI eXplainability, interoperability, and re-usability, by utilizing state of the art methods and paradigms
 Compliance with European privacy and ethical frameworks, e.g., GDPR, PIA, etc.
Enforce privacy by applying a Homomorphic encryption layer, through which all data interaction will take place
A blockchain-based transaction recorder to ensure accountability
TRUSTEE's fully encryptedsolution will be validated through six different use cases supporting GAIA-X, EOSC, EGI, etc. demonstrating a multi-disciplinary, Pan-European federated FAIR and private data ecosystem.
Funding Scheme: RIA – Research and Innovation Action
Coordinator: FORTH – Idryma Technologias kai Erevnas
Total Budget (EU contribution): € 8.706.263.75
HMU (Pasiphae Lab) budget: € 706.250.00

Emerge Project (H2020-101008701)
Emerging Printed Electronics Research Infrastructure (EMERGE)
The EU-funded EMERGE project addresses the challenges concerning the whole spectrum of flexible, large-area electronics and photonics development: from materials synthesis and process design and architecture to device and system development. EMERGE will establish the first research infrastructure that supports interdisciplinary research in the field, enabling the introduction of new, recyclable electronics products at half the time and cost. Moreover, it will establish guidelines for the further exploitation of industrial symbiosis of green technologies by identifying best practices and maintaining an up-to-date inventory of projects and opportunities for cross-sectoral cooperation and networking.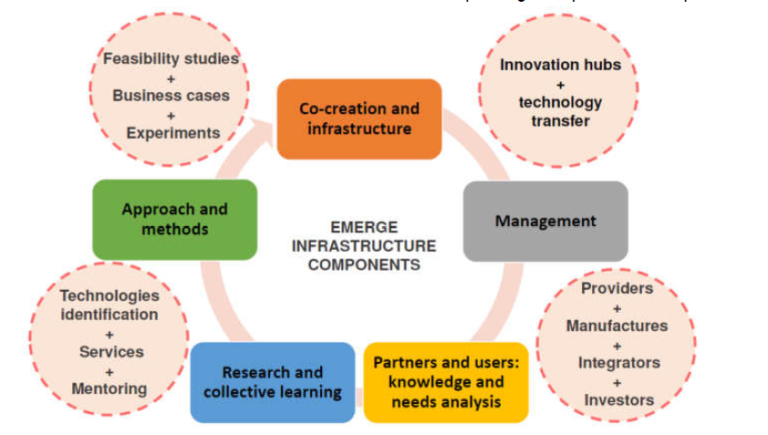 The aim of EMERGE is to establish the first integrated, distributed research infrastructure supporting comprehensive user projects for multi-and-trans-disciplinary research on sustainable flexible large-area printed electronics and photonics (FLAPEP) value chain, going from materials formulation to design and architecture ofprocesses, devices and systems, backup by characterization, test modelling and simulation tools, through a coordinated open-access for RTOs, industry and SMEs to complementary facilities. This is a route for creating added value and road mapping the introduction of new, recyclable electronics products at "Half-the-time/ Half-the-cost" to establish a sustainable prosperity, as required by today's science and technology challenges and ESFRI landscape analysis.
The overall objective of EMERGE is to provide access for users working with materials such as paper, textiles or biocompatible polymers to small-footprint FLAPEP technologies which enables emerging devices by using industrially compatible hybrid printing processes (roll-to-roll (R2R), functional 3D printing, etc.) accompanied with in-line inspection tools and automatic systems for high throughput inks determination, both driven by a novel Knowledge repository powered by Artificial Intelligence (AI) methods.
At least 1400 users will be involved in the project through cross-border experiments, while creating at least 4 Symbiotic Clusters transregional connected, 4 Innovation gateway Hubs focusing on technology brokerage and 1 transversal hub valuing the results of the prototypes within a market approach. EMERGE will focus intensively on networking among partners and stakeholders through advocacy and dissemination, sharing data and information management and exploitation to ensure a long lasting, sustainable community in line with the Green Deal initiative for environmentally friendly approaches towards circular economy.
Funding Scheme: RIA – Research and Innovation Action
Coordinator: UNINOVA – Instituto De Desenvolvimento De Novas Technologias
Total Budget (EU contribution): € 6.177.816
HMU (NANO@HMU – Pasiphae Lab participating) budget: € 542.500,00


5D AeroSafe Project (H2020-861635)
5 Services of Drones for Increased Airports and Waterways Safety and Security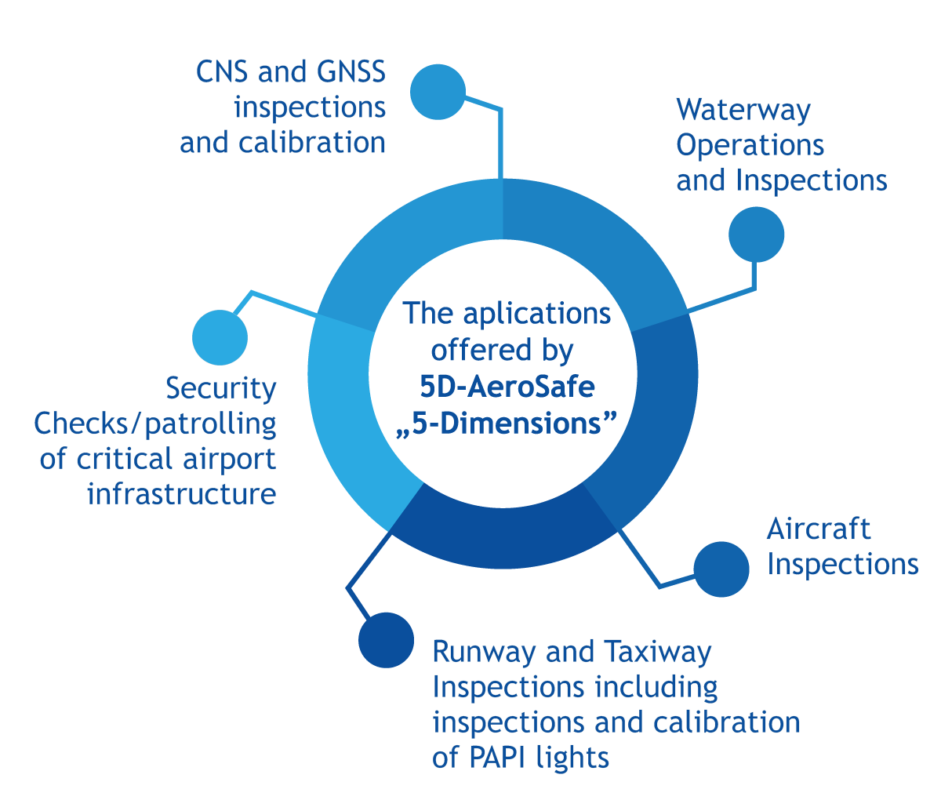 5D-AeroSafe is a 36-month project that will develop a set of drone-based services to increase the safety and security of airport and waterway, while reducing operational costs through the offering of five services: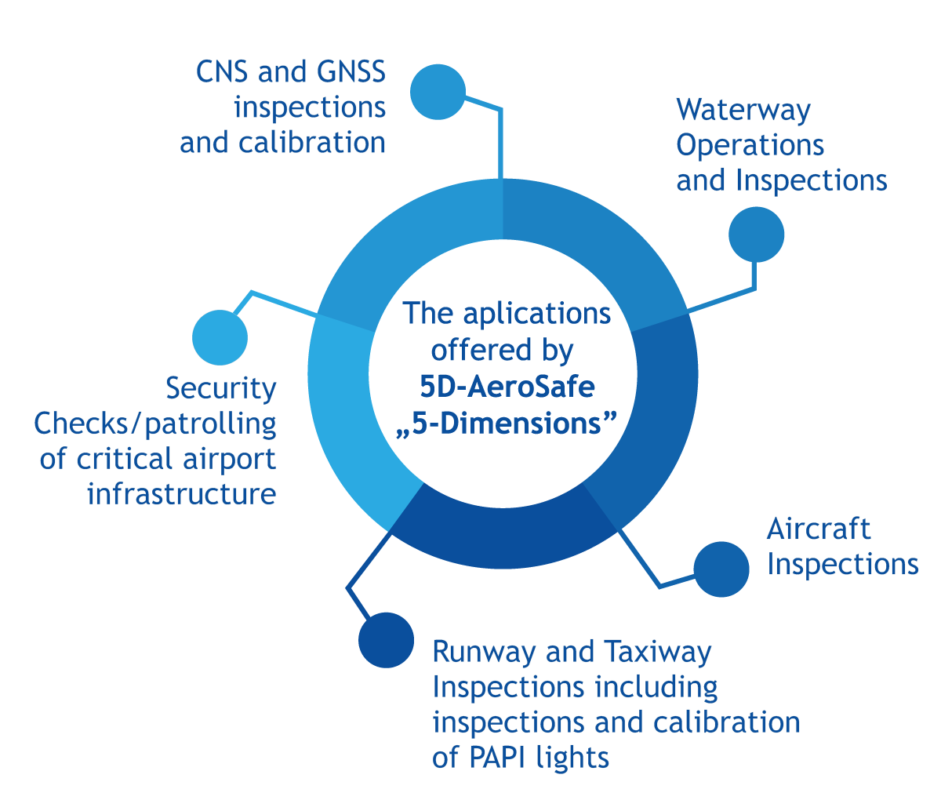 The challenge is to integrate the flight of drones in restricted areas where they will co-exist with numerous commercial flights without increasing risks. The integration UTM/ATM is thus studied in detail in the project to propose these efficient solutions. The services are based on the use of several drones (fixed wings for large area monitoring, and VTOLs for detailed inspections and calibrations) integrated in a generic ground station equipped with innovative ITC capabilities, connected to the airport legacy systems. The 5D-AeroSafe modules will be connected, via SWIM, to airport maintenance systems for infrastructure inspection and calibration aspects, operations systems for the aircraft inspections, and finally with the local ATM for the ATM/UTM integration aspects. The project will be implemented under the control of relevant end-users' stakeholders (airport and water airport operators), and authorities (Civil Aviation Authorities). The tests and validation of the system will be performed through three operational test pilots at different stages of the project as the implementation will be incremental, and will take place in real locations and in as much as possible real conditions. As the technological and operational innovations are multiple, the project will target a final TRL of 6-7. The consortium and the advisory board encompass a large set of end-users and authorities which is a guaranty of the operationality of the project outcomes, and the industry and research partners have been involved for a long time in drone services development
Funding Scheme: RIA – Research and Innovation Action
Coordinator: AIRBUS DEFENCE AND SPACE SAS
Total budget (EU contribution): € 3.497.475
HMU (Pasiphae Lab) budget: € 327.500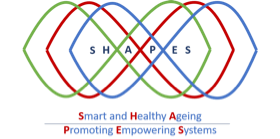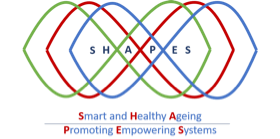 SHAPES Project (H2020 - 857159)
Smart and Healthy Ageing through People Engaging in Supportive Systems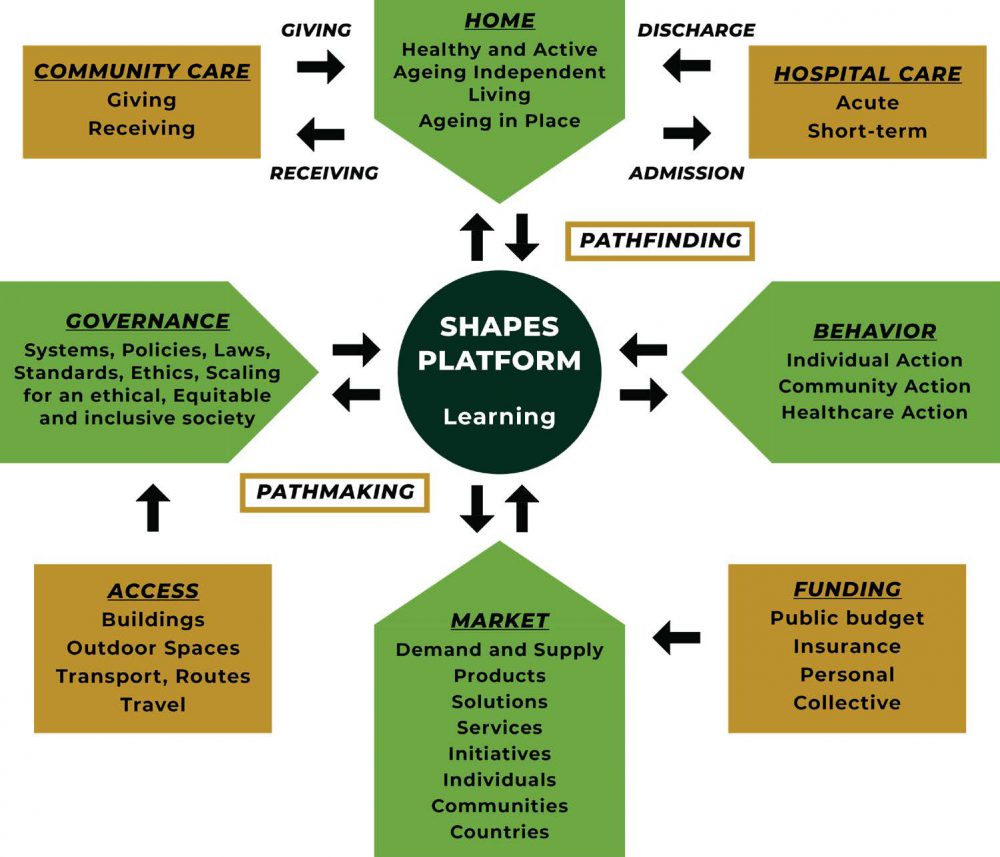 SHAPES aims to create the first European open Ecosystem enabling the large-scale deployment of a broad range of digital solutions for supporting and extending healthy and independent living for older individuals who are facing permanently or temporarily reduced functionality and capabilities. SHAPES builds an interoperable Platform integrating smart digital solutions to collect and analyse older individuals' health, environmental and lifestyle information, identify their needs and provide personalized solutions that uphold the individuals' data protection and trust.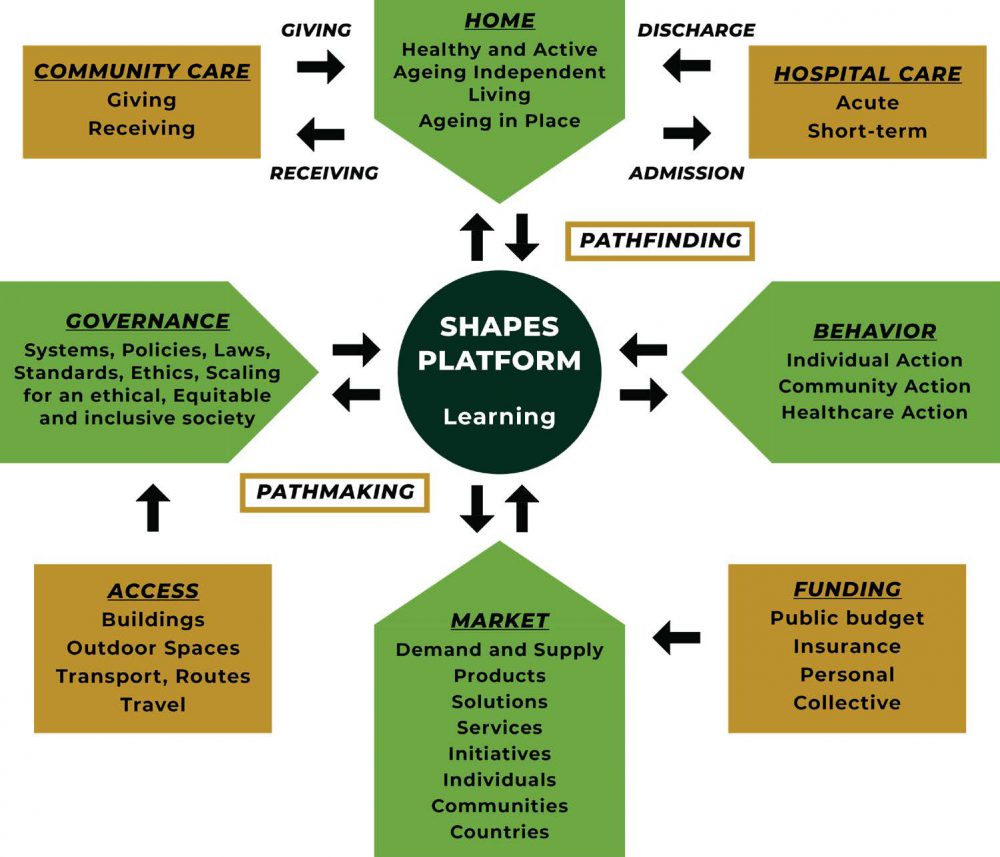 Standardisation, interoperability and scalability of SHAPES Platform sustain increased efficiency gains in health and care delivery across Europe, bringing improved quality of life to older individuals, their families, caregivers and care service providers. SHAPES Large-scale Piloting campaign engages +2k older individuals in 15 pilot sites in 10 EU Member States, including 6 EIP on AHA Reference Sites, and involves hundreds of key stakeholders to bring forth solutions to improve the health, wellbeing, independence and autonomy of older individuals, while enhancing the long-term sustainability of health and care systems in Europe.
SHAPES's multidisciplinary approach to large-scale piloting is reflected across 7 themes that, together, provide a clear understanding of the reality of European health and care systems and enable the validation of cost-efficient, interoperable and reliable innovations capable of effectively supporting healthy and independent living of older individuals within and outside the home. Building an ecosystem attractive to European industry and policy-makers, SHAPES develops value-based business models to open and scaleup the market for AHA-focused digital solutions and provides key recommendations for the far-reaching deployment of innovative digital health and care solutions and services supporting and extending healthy and independent living of older population in Europe.
Funding Scheme: IA – Innovation action
Coordinator: NATIONAL UNIVERSITY OF IRELAND MAYNOOTH
Total budget (EU contribution): € 18.732.468,25
HMU (Pasiphae Lab) budget: € 523.750